I graduated from the Cinematography, Photography, and Media Department at Sapientia University (Cluj-Napoca, Romania) in 2009. Since then, I have been working as a photojournalist, documentary photographer, and occasionally as a video journalist. I have been collaborating with local, regional, and national newspapers, online news platforms, my main topics of my long-term projects being minorities, gender identity, and migration. Recently, my photography practice has shifted towards long-term projects and conceptual works. I am happy to experiment and to gradually incorporate alternative image-making processes (cyanotype, photo transfers, mordançage) into my practice. At the same time, text seems to be taking up more space in my work. I started to really enjoy writing and the extra layer it adds to my visuals.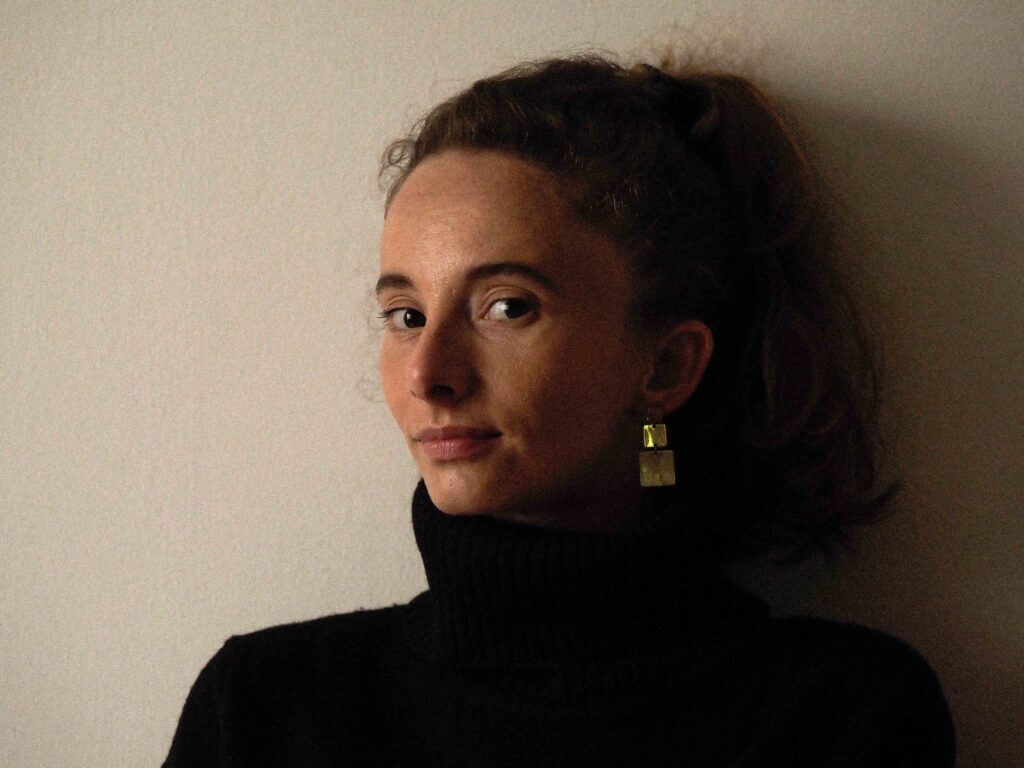 I currently live in my hometown, Miercurea Ciuc, a small, Hungarian majority town in the geographical heart of Romania. Being home allows me to deal with topics that I truly understand and feel deeply about. However, there is a certain isolation here, I need to actively seek out opportunities (workshops, scholarships, international projects) that offer creative impulses and that contribute to my professional development. In this sense, the mentorship grant offered by the VID Foundation for Photography has been an amazing support. It has meant pushing boundries, but it has also offered a community and a support system that has allowed me to feel safe in the process of developing this work. In the active 6 months of the mentorship I have worked with Anne Ruygt, curator at FOMU – Fotomuseum Antwerpen and Bertan Selim, the founder of the VID Foundation for Photography. Besides them always asking the right tricky questions, the feedback from the previous and current grantees and the professional network provided by them has been essential in furthering my project.
What exactly is my project about?
In this ongoing work, which is a photo essay (provisional title: The best they could. The best we can.), I take a look at women's roles and transgenerational patterns through everyday snapshots of my life, through anecdotal, almost fictional stories from my family, and photographic interventions that reflect on my feelings, struggles and questions regarding these aspects of my life. I also use archival images from the magazine "Dolgozó Nő" ("Working Woman"), a periodical that was published in the Hungarian language in Romania between the period 1945 and 1989.
This photo essay is essentially an intense dialogue between the gut-wrenchingly personal and the historical perspectives.
One of the biggest challenges for me in this project was to allow myself to experiment (meaning the possibility of making mistakes) and to depart from the visual language that has characterized my previous work as a photojournalist. In the course of this past year I have been working with alternative photographic processes (mordançage), photographic interventions and photo transfers: transferring images from the Dolgozó Nő magazine onto textiles – which resembles a tradition in my family heritage (specifically related to dowry and marriage). So far, I have only experimented with small pieces of materials, but I want to enlarge this process by working with full-size textiles such as bed sheets, linens, dish towels, handkerchiefs, etc. I am ultimately working towards an exhibition. In the coming period I wish to experiment further with the layers that I can create by having the transfers (textiles with photos) appear with my self-portraits.
Here I have put together an excerpt of some visuals from my ongoing project:
Title:
The best they could.
The best we can.
(provisional title)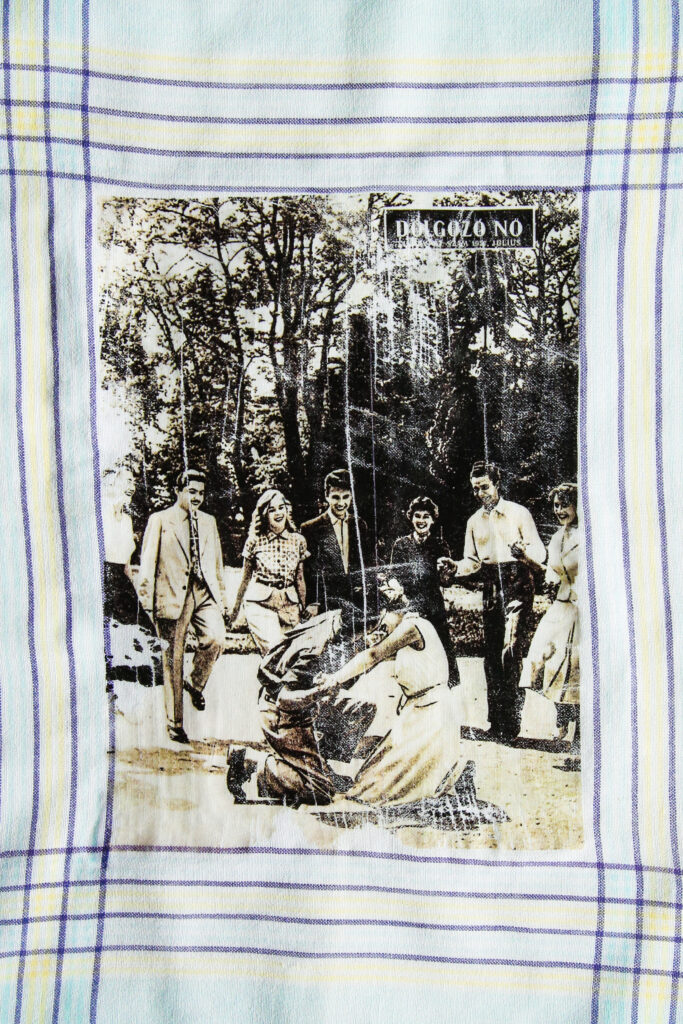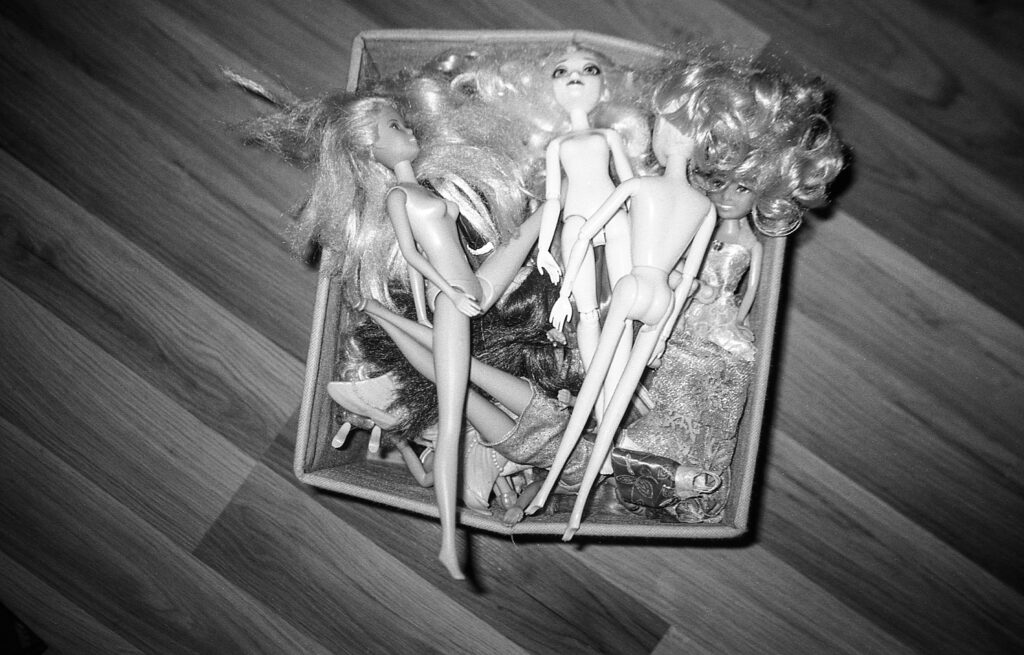 I often have a heavy sense of the baggage that we are all strolling around most of our lives. I am certain that there are lots of things in it: childhood experiences, the lives and challenges our parents had to face, the heritage of our grandparents, of our great-grandparents, the tragedies of the communities we live in and probably a lot more. I don't know how often we get to know what exactly is in that baggage. Sometimes there just aren't any clear or identifiable tragedies we can point to.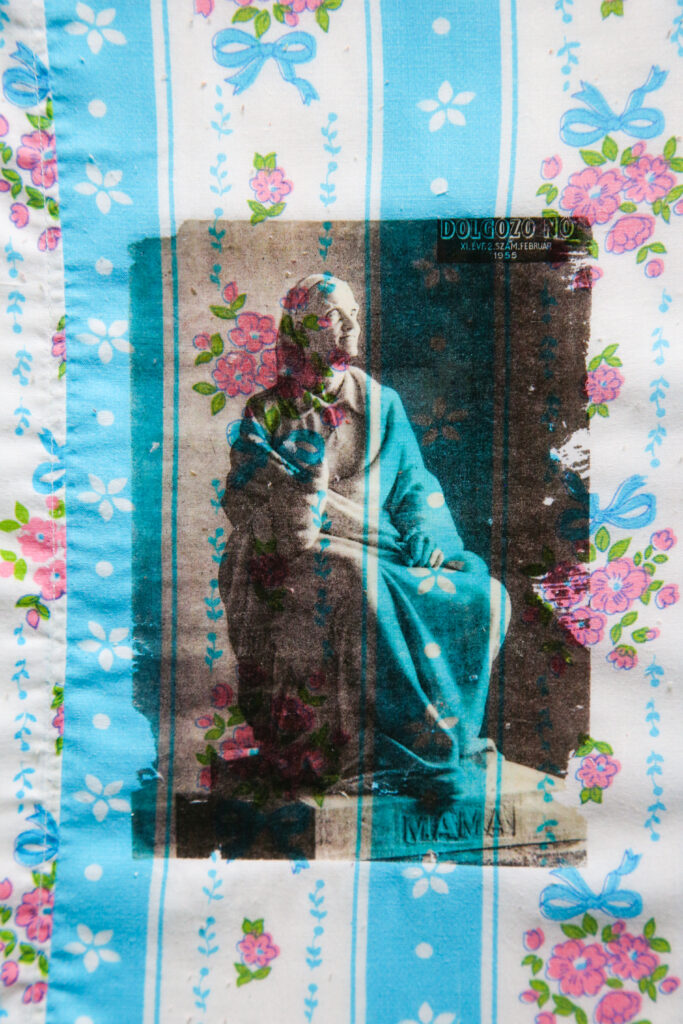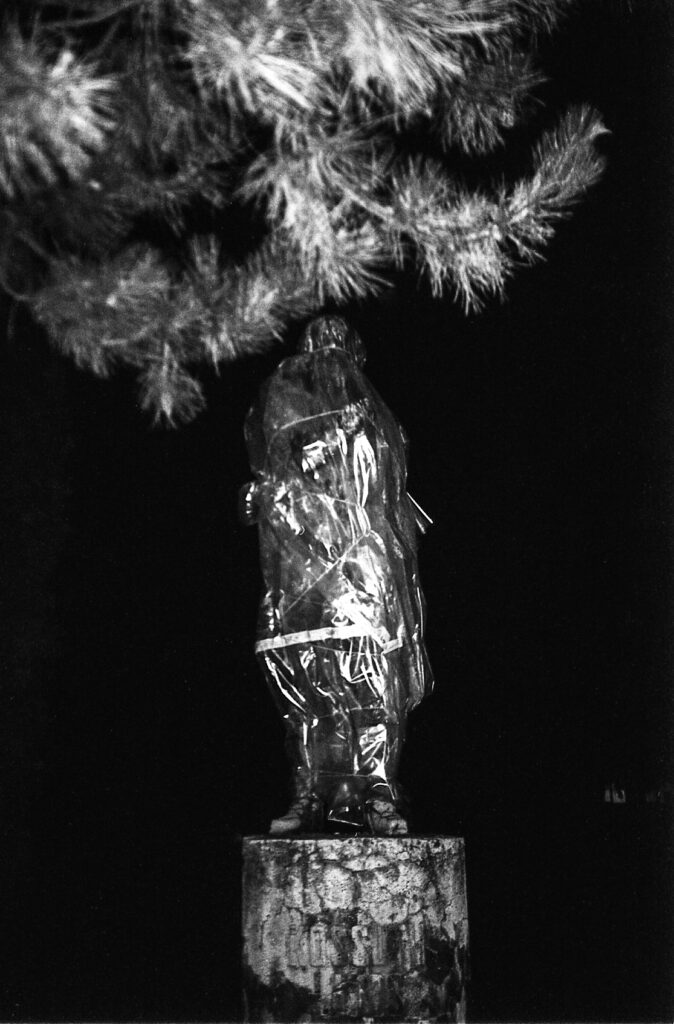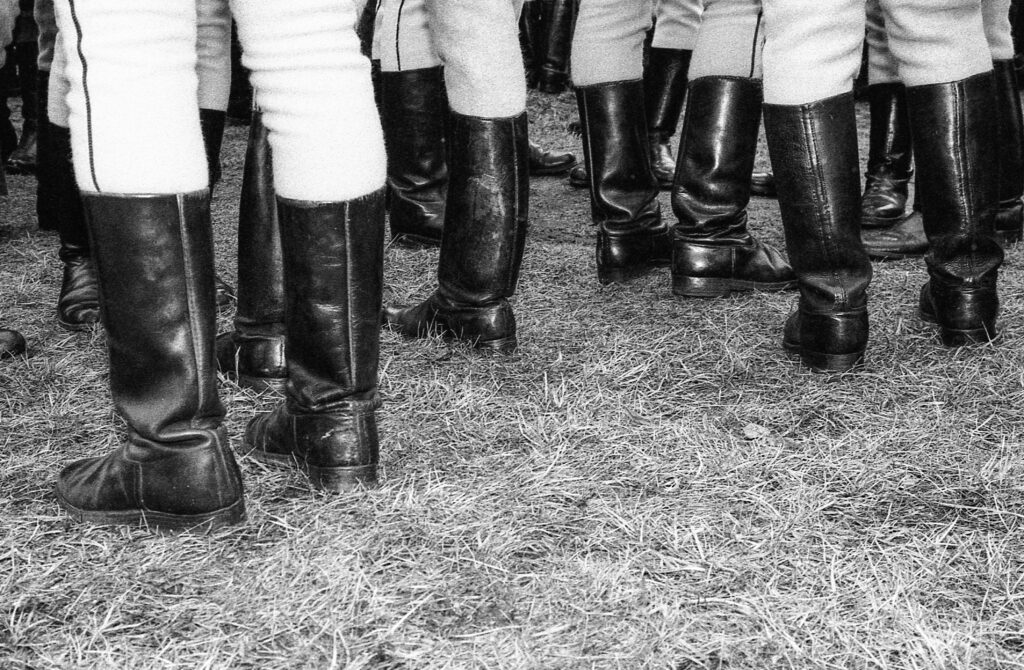 There is a letter from 1942, addressed to my great-grandmother (who was born in 1886, exactly 100 years before me). The letter was written in Budapest, by someone who seems to be an educator of some sorts. It is actually a letter of refusal, saying that after meeting my grandfather (16 years old at that time) he cannot take him in, because he is too old to be shaped/schooled successfully and he seems tremendously homesick. He is actually writing that my granddad was crying for his mother in his sleep. So he is sending him home: "if an older tree is replanted away from home, it might not survive the change".
My grandmother was 15 years old when her mother passed away at 35. It was at the end of WWII. She became the caretaker of her four younger siblings, at one point on her own, my great-grandfather being away because of the war. There are anecdotal stories in our family about my grandma and her siblings seeking shelter up in the mountains, hiding from Russian soldiers. I remember my grandmother being a person full of life, jokes, even mischievous. She didn't talk too much about the past, maybe I didn't even ask. But her face changed every time she mentioned the "hard times back then". Sometimes she even disappeared into it.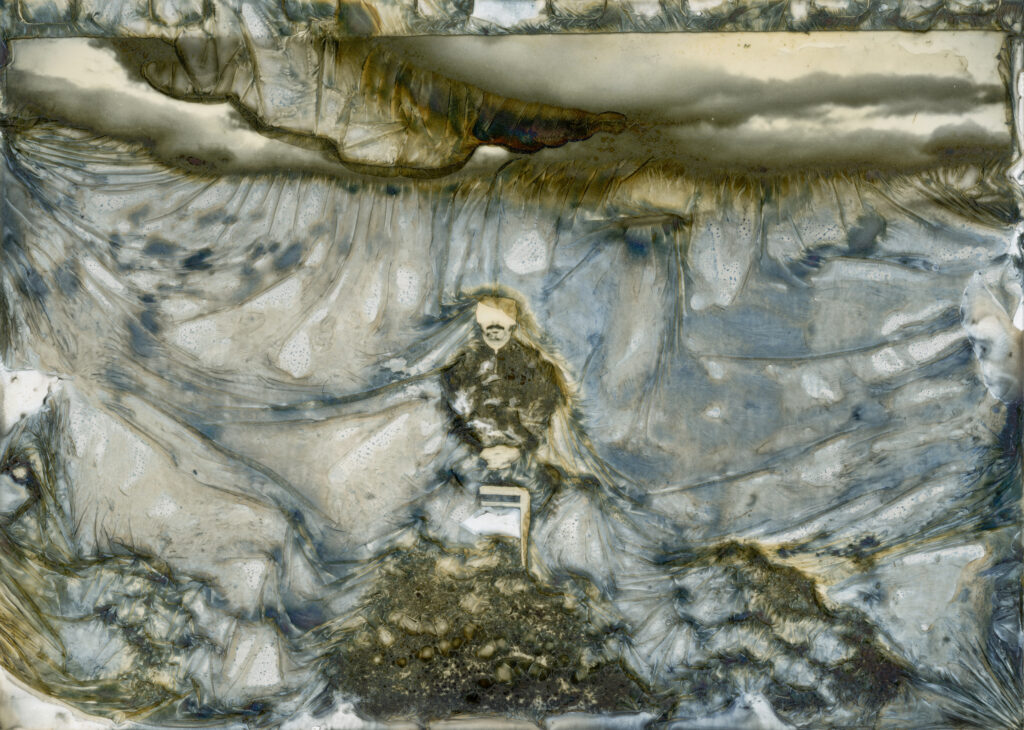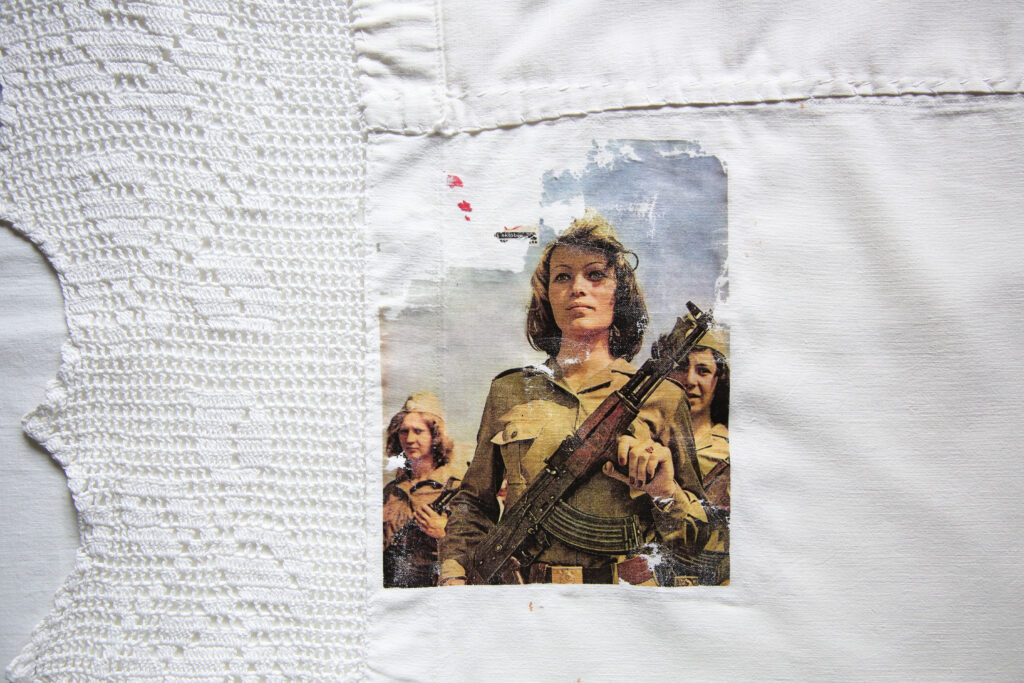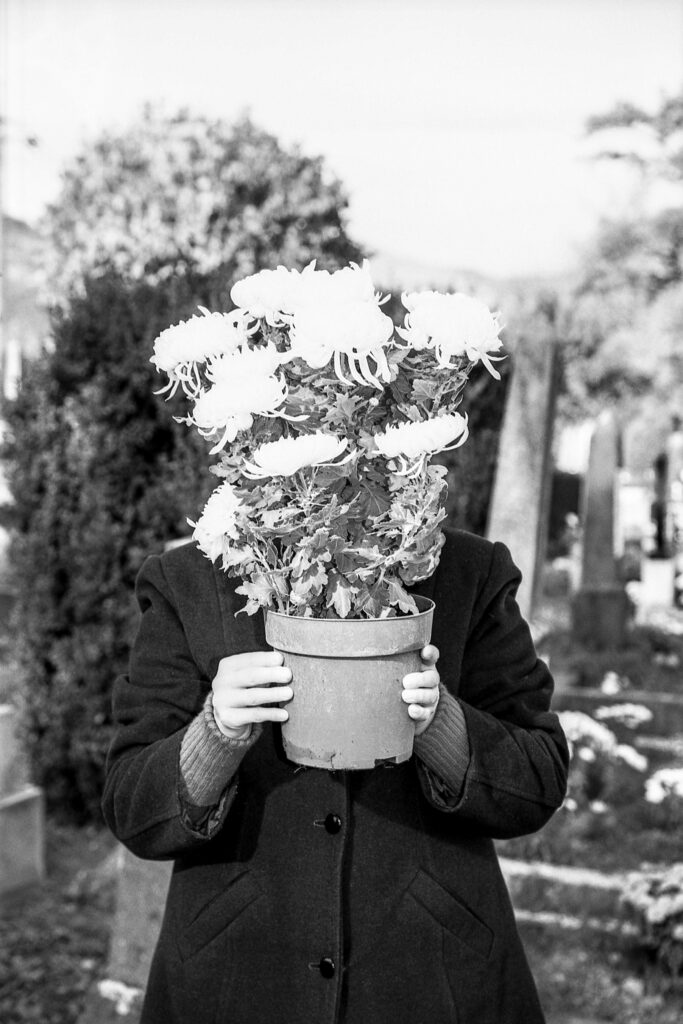 I want to understand who I am as a woman. Can I be strong and sensitive at the same time? Can I be beautiful? Can I be a mother? I feel the need to find out why I keep asking myself "who should I be?" instead of "who can I be?".
This duality is something I am constantly struggling with. I know how to be powerless and I know how to be overpowering. Where is the safe middle ground where you are not in survival mode anymore? It is exhausting.